Eco-friendly

Dishwashing Liquid With Basil & Mint Essential Oil – 500ml
An environment-friendly blend enriched with natural anti-microbial agent and essential oils, this product ensures your dishes are spotlessly clean. The natural anti-microbial agent and Linalool present in basil essential oil adds to the disinfectant properties of the formulation. Mint is known for its antibacterial properties too!
Customer Reviews
Shivani B.
I recommend this product
09/04/2021
Brilliant Products
I am really delighted to have found Pure Cult which takes care of not only my home but also our environment. Liquid Detergent smells amazing and leaves my hands baby soft and similar has been the experience with liquid dish washer. Kudos!
Rekha A.

India
I recommend this product
05/04/2021
Friendly in many ways
I have using Pure Cult products over a while now. I started with laundrette stuff and then some house cleaning. Last two month I have also stopped my regular Vim and started this dishwashing liquid. It is friendly in many ways to your utensils, the planet and your hand. Let's together contribute to a better world. I loved the two fragrances that are under dishwashing. It also cleans the utensils really well. My maid too now is comfortable with this product.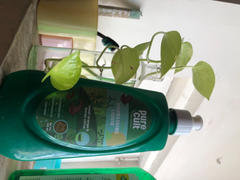 Prachi K.

India
I recommend this product
24/02/2021
Excellent product
Amazing! And as the product is pet friendly. I am really happy.
Tanya B.

India
04/02/2021
Quality product
Very good quality